Parent Information
We thought it may be helpful to put together an information page where parents could find advice and information on everyday issues that may arise.
On this page we have put links to helpful websites that answer questions about Head lice and Bed wetting. We have also put links for local help centers for help with emotional wellbeing.
You will also be able to find links to leaflets and websites which contain information to help keep your children safe online and when out and about on their own.
We hope you find this information useful. If you feel there is anything that would be helpful to add on to this page please don't hesitate to let us know.
Contact telephone number for Oftsed, if you want to speak to Ofsted about anything regarding your children's childcare you can call them on 03001231231
Tips and advice for teeth brushing with children
 Tooth brushing basics
Do not overload your child's toothbrush with toothpaste; you only need enough to cover the teeth.
Use toothpaste with fluoride. Children aged 3 – 6 years should have 1,350 – 1,500 parts per million (ppm) of fluoride. You will find this number on the tube of your toothpaste near to the ingredients.
Try and choose a toothbrush with a small head so it can get to the hard to reach parts at the back of the mouth.
Brush for two minutes. You could use a timer or for the length of a song on the radio!
The aim of brushing is to remove the plaque (this is the bacteria that forms on the gum line). You should brush away from the gum line in circular motions.
Do not let children walk around with the toothbrush in their mouths. If they fall they could really injure themselves. It is important that an adult brushes the child's teeth if they are under 3 and supervises under the age of 7.
Spit, don't rinse! Get your child to spit out the toothpaste residue and to not rinse the mouth out after with a handful of water as this will wash away all that fluoride that has just been applied. If your child's mouth still feels 'gritty' then run the toothbrush under the tap and go in and around the mouth and spit again.
…And remember, smile!
Food Safety and advice on choking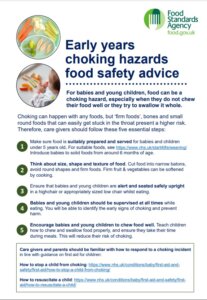 The Food Standards Agency have issued some useful resources as a helpful reminder of how to minimise the risk of choking. We have also found some websites that parents and carers may find useful when thinking about food safety.
https://www.nhs.uk/start4life/weaning/safe-weaning/choking/
https://help-for-early-years-providers.education.gov.uk/safeguarding-and-welfare/food-safety